P.E. activities for all
Year 3 Get Active morning
Year 3 pupils took part in a fun morning at Shelley College during June. This annual event of sporting activities is organised by the Shelley Sports Partnership.
It is a great opportunity for our pupils to visit another school and participate in activities with other pupils from our pyramid, who they will meet up with again when they transfer to Kirkburton Middle School.
Federation Cup Rounders tournament 2018
Each year the federation schools of Denby First, Farnley Tyas First and Thurstonland First hold a sporting tournament for Year 5 pupils.
This year the Year 5 pupils went to Farnley Tyas recreation ground to take part in a rounders match against the other two schools.
Our team played exceptionally well and won the tournament for the 3rd year running!
Thank you to the Shelley Sports Partnership who co=ordinated the event with us along with our teachers, and also a huge thank you to the parents who were able to provide help with transport.
Winning team photo to follow shortly!
Neiley Races 2018
During May & June some of our pupils took part in three organised races at Neiley Fields, Honley. This event is organised annually by volunteers from Holmfirth Harriers Athletics Club, with the support of The Examiner newspaper.
We had fantastic results as shown below!
Team results:
Year 3/4 boys came 1st out of 10 small schools!!! (2nd overall out of 31 schools!)
Year 3/4 girls came 3rd out of 8 schools!
Year 5/6 girls came 4th out of 8 schools!
Individual results:
Year 3/4 boys - 6th, 9th, 11th, 20th, 23rd & 37th places out of 190 runners!
Year 3/4 girls - 7th, 33rd, 58th, 82nd & 84th out of 163 runners!
Year 5/6 girls - 58th, 109th & 112th out of 145 runners!
Year 5/6 boys - 59th & 64th out of 109 runners!
Well done to all the children who took part and put so much effort in during each of their races - you were amazing!
Reception and Year 1 Cross Country
On 1st May some of our Reception and Year 1 children joined other children from the Shelley Pyramid of schools at Highburton First School to take part in a Cross Country Event to raise money for the Forget Me Not Trust. There was a great turn out for the event and we even made it into The Examiner! There were four races altogether (Year 1 girls, Year 1 boys, Reception girls and Reception boys) and our children did really well with all ten coming in the top 10 for each of the races.
Reception and Year 1 Football Tournament
We were invited to take part in the above event which was held at Kirkburton Middle School on Tuesday 13th March. We had a squad of 6 boys. The children played well as a team and enjoyed the opportunity to meet other pupils within the Pyramid.
Year 2 Football Tournament
Our Year 2 children were invited to take part in a football tournament, which was held at Shelley College on Tuesday 20th March. We had a squad of 7 boys and girls, who had a great time.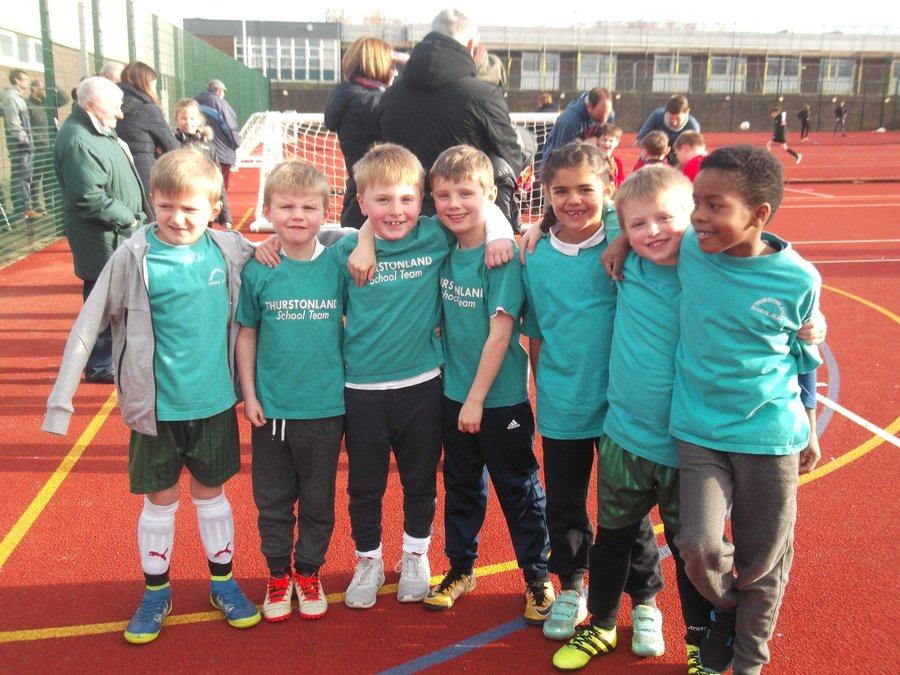 NSPCC Obstacle Course Challenge
The whole school took part in an obstacle course to raise money for the NSPCC. The children did really well and raised £343.50 in sponsorship money, which they presented to the Charity during an assembly.
Our Year 4 and 5 children worked with Sports Coaches to design the obstacle course and lots of fun was had by all those involved.
Boxercise
Boxercise After School Club was a 6-week course run with Project Sport. It was open to our pupils in Years 2, 3, 4 and 5.
KS2 Girls Federation Football
A girls KS2 Shelley Pyramid Football Festival was held on Tuesday 27th March at Kirkburton Middle School. A team of girls from our federation of schools took part. They played well together and did an excellent job at representing our schools.
KS2 Boys Football Tournament
Our KS2 boys had lots of fun taking part in a football tournament!